In Memory
John Greer (Chagan)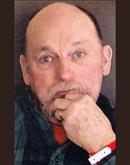 JOHN R. GREER
CHATHAM, IL - John R. Greer, 72, of Chatham, passed away at 12:21 a.m., Tuesday, March 8, 2016, at his home.
He was born March 25, 1943, in Springfield, Ill., the son of Marion and Genevieve (Crane) Greer.
Surviving are his wife of 32 years, Julia A. Waters Greer; four sons: David (Heather) Greer of Pleasant Plains, Michael Greer and Matthew (Julie) Greer, both of Rochester, and Jeffrey (Michelle) Greer of Pekin; one daughter, Jeanette (Robert) Schuerman of Springfield; 11 grandsons; seven granddaughters; two great-grandsons; one brother, Richard Greer; two sisters, Patricia Elmore and Mary Lou Traylor, all of Springfield; and numerous nieces and nephews.
He was preceded in death by his parents and one brother, Robert Greer.
John retired from AT&T after 36 years of service and was a lifetime member of the Lake Springfield Prop Club.
Memorial Gathering: 4-6 p.m., Saturday, March 12, 2016, at Staab Funeral Home.
Memorial Service: 6 p.m., Saturday, March 12, 2016, at Staab Funeral Home with Pastor Matt McClane officiating.
Memorial contributions may be made to: The Animal Protective League or Helping Paw Project in care of Carol Rodgers, 2344 South 6th Street, Springfield, IL 62703.